Don't miss out on the opportunity to purchase these Surplus doors and windows at Amazing Prices.  These items are past displays, canceled orders, or discontinued.  For more information, please give us a call
96" x 96" (Rough Opening) Bay View Series Inswing French Door w. Operable Sidelights.
White Vinyl. Clear Insulated Glass. Nail-on 1". Contemporary Multi-Point Handles in White. Push-In Thumb Turn Sidelight Locks. Includes Sidelight Screens.
Reference: A-I
Retail $4,536
On sale $2,950
141 1/8" x 95 ¾"  (Net Frame Dimension) M.I. Multi-Slide Door Unit – OIX. Energy Core Series.
SPLIT FINISH: Silver Exterior (Super Cap) / White Interior. Weather Sill w/ 1 ½" Interior Leg. Low-E366. Zebra Handle. Jamb Covers. Stainless Steel Wheels.
Reference: B-I
Retail $8,872
On sale $5,775
Masonite Vista Grande Series – Dutch Door. Net Dimension: 48-7/8" x 81"
Half-Lite Single Panel Bottom with Full Lite Fixed Sidelight. Smooth Fiberglass. 36" Door / 10" SL * Low-E with Argon Gas *Pre-Finished: Black / Window White Composite Jambs. Oil Rubbed Bronze Hinges. Dutch Cut & Rabbeted w/ US10B 6" Flush Bolt. Includes ORB lock set shown in picture. *Discontinued Style. Reference: C-RB
Retail $4,247
On sale $2,549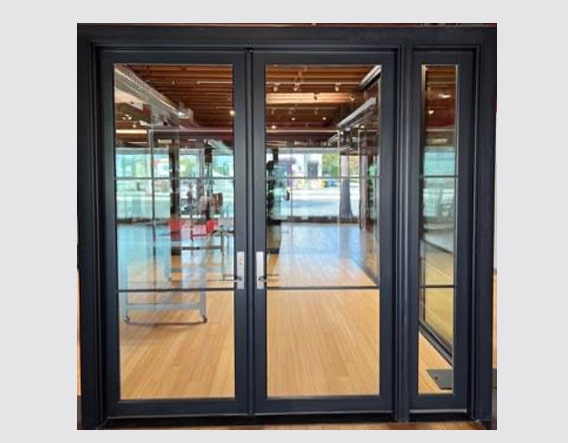 Andersen E-Series Contemporary French Door w/ Fixed Sidelight. NFD:95 ½" x 95 1/16"
Black Ext. / Pine Black Painted. Low Profile In-Swing Threshold. Low-E SmartSun w/ Argon. Black Spacer. FSB 1035 Handles in Satin Stainless Steel. 3W3H Contemporary 5/8" FDL Grids. No Key lock. No Interior Mull Cover between Door/Sidelight.
Reference: D-RB
Retail $9,869
On sale $5,925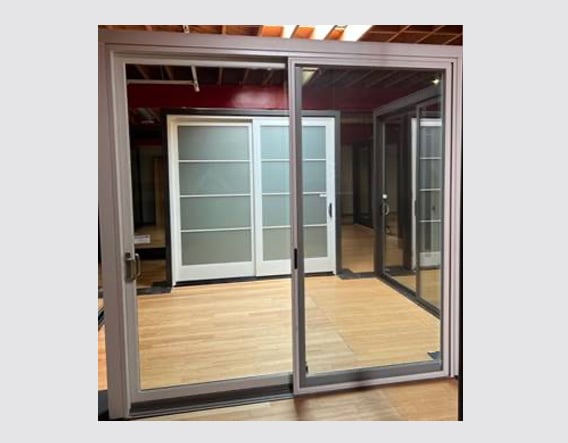 Andersen E-Series Contemporary Sliding Glass Door. NFD:95 ¾" x 95 ½"
Sliding Glass Door XO. White / Cherry Clear Coat. Contemporary 2-3/4" Stile & Rails. Nail-On 1".Low-E SmartSun w/ Argon. "Anvers" Hardware in Satin Nickel Finish. No Grids. Top Hung Gliding Screen Door. Non-Keyed Entry.
Reference: E-RB
Retail $6,861
On sale $4,120
Andersen E-Series Contemporary Sliding Glass Door. NFD:95 ¾" x 95 ½"
Sliding Glass Door XO. White / Cherry Clear Coat. Contemporary 2-3/4" Stile & Rails.
Nail-On 1".Low-E SmartSun w/ Argon. "Anvers" Hardware in Satin Nickel Finish. No Grids. Top Hung Gliding Screen Door. Non-Keyed Entry.
Reference: D
Retail $6,861
On sale $4,120