Andersen Windows-An Unparalleled Selection of Windows
EXCEPTIONAL ENERGY EFFICIENCY AND PERSONALIZATION
Whether you're renovating your home or building from the ground up, we've got what you're looking for. When you choose Andersen Windows, we not only provide you with high-performing, dependable products, we support them with exceptional service. New windows and doors can be a major investment, but if you choose wisely, you're rewarded with better light, comfort, added security and energy efficiency. When it comes to making such an important decision, make sure you go with a brand you can trust. Contact us for your free estimate.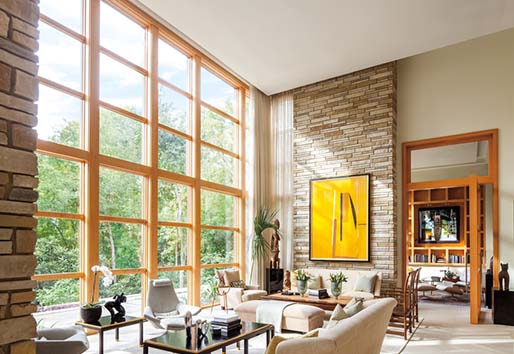 Wood – Beauty That's More Than Skin Deep
It's been at the core of our products for over 100 years. We use wood for strength and rigidity in our frames and sash, beauty on our interiors and its overall thermal performance is hard to beat. Where Andersen leads the industry is the variety of ways that our wood is protected. Each wood product is clad to resist the elements and provide a low-maintenance exterior that never needs painting.
Composite – The Smart Alternative To Vinyl
We developed a material that is 2x as strong as vinyl, performs better when exposed to extreme temperatures and delivers exteriors that won't fade, flake, blister or peel. We call it Fibrex® material. It's made up of reclaimed wood fiber and PVC polymer that is fused together and is unique to Andersen.
Vinyl – Time Tested Performance
Vinyl on its own provides an excellent low-maintenance exterior for any window. Silver Line® windows and American Craftsman® windows are durable and provide a great value.
Aluminum: Strength, Beauty And Design Freedom
We use aluminum to provide a virtually maintenance-free exterior that resists the elements. Its high-definition details and versatility gives us the ability to provide any color you can imagine in practically any shape.
Fiberglass – Protection And Durability
Fiberglass is a tough, weather-resistant material. We use it to keep exteriors maintenance-free and combine it with beautiful wood interiors. The combination of these materials make our windows and doors rigid yet lightweight for easy operation.